Drinks are the main attraction of any party. Good drinks can make a party entertaining. However, how you serve the drinks is equally essential. The visualization and appearance of the drink servings also set the mood and tone of the party. Imagine getting a drink in simple paper cups with dull colors. Ultimately, the party will also start looking dull to the guests. On the other hand, you are serving delicious drinks in large-size stadium cups with funky prints and designs. Imagine how trendy and attractive it will look! The personalized plastic stadium cups come as the best option if we go through all the available options for serving drinks. We provide customized stadium cups composed of food-suitable plastic. These cups are also reusable, saving a lot of your money on servings while throwing a party.
What is a Stadium Cup?
A stadium cup is typically a larger cup decorated mostly with customized brands or texts. You see stadium cups at a wedding, parties, or sports shows. Stadium cups are used mainly because they provide more considerable size flexibility. You can get them in 8oz to 32 oz sizes. However, 12/22 oz plastic stadium cups are mainly ideal for any party or game show. These are reusable and reduce carbon footprints by checking waste production. You don't need to buy disposable plastic cups repeatedly for every party or game. These cups also serve the purpose of branding and increasing public exposure by the brands.
Moreover, these cups are lightweight and easy to carry. Personalized plastic stadium cups allow the guests to enjoy their drinks easily without getting uncomfortable with heavy cups. This also makes their transportation and storage easy. Also, plastic is a highly durable material, making the custom plastic stadium cups long-lasting.
What are stadium tumblers used for?
Stadium tumblers serve drinks at parties, gatherings, weddings, baby showers, family reunions, zoos, holidays, picnics, etc. You can serve drinks in plastic stadium cups blank without worrying about cleaning large waste piles as these are reusable. Also, many people prefer using stadium cups as they come mostly in larger sizes which prevent guests from the inconvenience of filling their cups again and again. You can also get them customized for your event or party to make it look more personalized and chic. Some restaurants also use them as kids serving glasses as they are shatterproof. However, there are some other uses for customized plastic stadium cups also. Many brands and companies also use them for branding purposes.
Customized plastic stadium cups are a great way of targeted marketing. Several companies choose to serve drinks in their customized stadium at big sports games and gatherings. This provides immense public exposure and mouth publicity. It is also a very effortless and cheap way of marketing as it doesn't require significant resources. On our website, you can easily find promo plastic stadium cups with lids at affordable prices.
Stadium cups size VS Normal drinking cup size
If we see the average customized plastic stadium cup size, it is 16oz. However, depending on your size preference, it can vary from 8 oz to 32 oz. You can also get promo plastic stadium cups with a lid. The lid helps in preventing the drink from spilling; however, it is optional. We provide a broad spectrum of sizes like 8oz, 12oz, 16oz, 22oz, and 32oz.
You can more easily understand the sizes as a 16oz cup can hold one water bottle while a 32oz can hold 2 water bottles. So before ordering 12/22oz plastic stadium cups, you can measure them by water quantity reference to get the right size. If we compare this to a regular drinking cup size, it is around 16oz which means one water bottle.
The choice depends upon how much you want to serve your guests in one drink. Sometimes the larger stadium cup sizes are better for average drinks like juices, mocktails, etc. On the other hand, for alcoholic drinks, the 12/22 oz plastic stadium cups are perfect.
How to deal with the Stadium Cups after using them?
The plastic stadium cups are blank and composed of reusable plastic material. This means you can easily use them again after washing. The cleaning process of stadium cups is also straightforward as they are dishwasher friendly. So now you don't need to spend money again and again on cups while throwing a party next time.
There are also other things that you can do with your used stadium ups or old stadium ups, like;
Grow plants: You can easily use the stadium cups as planters due to their large sizes. Just make a hole in the bottom and fill the cup with soil. Then, you can put seeds for the small plants and water them.
Hold clutter: You can also use them to keep your desk or kitchen clutter-free. Keep it on your desk and put your pens, colors, etc. in it. In the kitchen, you can keep your spoons, forks, etc.
Decorative pieces: You can make decorative light pieces by using plastic stadium cups. Make a hole in the bottom and put a cluster of fairy lights. Then, you can use them to decorate your next party.
How to order custom stadium cups?
If you are planning a party and looking for ideal fun personalized plastic stadium cups, then you have come to the right place. We offer a wide range of personalized plastic stadium cup collections with different fund designs, sizes, and customizations. Some of our products are;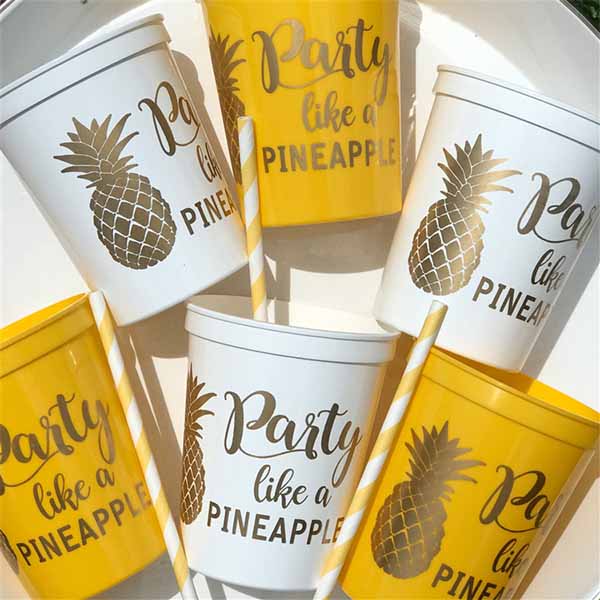 For your perfect wedding serves!
The cups come in 22oz size. They are made of food-grade plastic and can be customized into different designs and colors. Get them customized as your wedding theme and serve your guests with sophistication.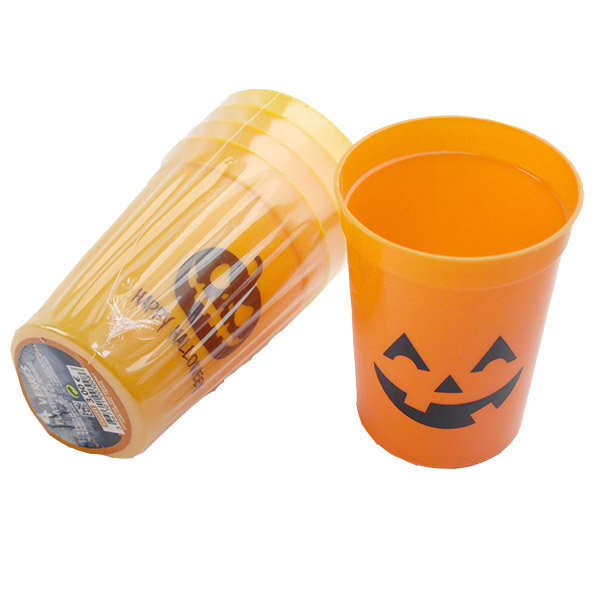 Make your party lit with this personalized plastic stadium cup with this fun and spooky house party. It's shatterproof, so no worries about cleaning after-party clutter. It comes in an 8oz plastic cup size to serve adequately. For more such products, visit our stadium cup list!