The custom stainless steel water bottle are double-wall containers with a vacuum insulated layer. It is used to hold liquids or other beverages, and can keep warm for more than 12 hours and cold for more than 24 hours. The use of thermos bottles not only enables individuals to enjoy drinks, but also makes it more convenient to transport drinks from one place to another. It does not lower the internal temperature and does not condense on the surface of the bottle.
The stainless steel forms the inner bottle and the outer bottle. SUS304, that is, 18 / 8 food grade stainless steel, is the most widely used as stainless steel. And it is widely used in food equipment, atomic energy industry, general chemical equipment, etc. SUS304 has corrosion resistance, heat resistance, low temperature strength and good mechanical properties. The using temperature of SUS304  is -196 to 800 °C.
Production process of metal water bottles
We are now in a society advocating health life. Drinking water instead of beverage or soda is recognized as a healthy lifestyle.  Therefore, we can easily find that people keep water bottles made from different materials at home, in the office or in the hand bags. Today we are going to talk about how the custom stainless steel water bottle is produced as one of the most popular water containers in our daily life.
1.1 Cutting
Basically, the stainless steel water bottles customizable are made from stainless steel tubes which are at 0.5 mm thickness and 2500 mm length. The first step is to cut those tubes into proper length according to size of the bottle.
1.2 Water Punching
After that the cut tubes are going to be water punched to the perform shape of the bottles.  For small or medium sized water bottles, 1 tube will be cut again from the middle into 2 bottles. And for those larger capacities, 1 tube is for a single bottle.
1.3 Bottle Mouth Processing
The next step is processing of bottle mouth. The shapes of mouth are processed by 3-5 times of stretching on different machines according to the designs of the mouth.  Then after cutting, smoothening and polishing, the mouth will be finished smooth, round without sharp point or sharp edge.
1.4 Welding
Please be aware that the custom stainless steel water bottle is made from 2 layers. Generally, the inner and outer layers are processed in the similar way. Now, we will weld them together by argon arc welding machine. After the two layers are weld together, the bottom piece with a suction plate pre-positioned will be welded on.
1.5 Vacuum Insulation Technology
Up to now, the double wall bottle is finished but it not insulated yet. Vacuuming is one of the most important processes to make the bottle insulated. The bottles will be put upside down on a rack, and then we have to put the vacuum solder to the bottom of each bottle. And now, the rack full of bottles will be loaded into a vacuum furnace. One furnace holds 1400 pieces bottles. The vacuuming time must be 6 hours above to make sure the bottles are insulated enough. When the vacuuming is finished, we will test the water bottles one by one to make sure they are insulated.
1.6 Electrolysis And Polishing
Now it comes to the electrolysis process. The main purpose is to make the interior wall of bottle clean and shining. Under the co-working of positive/negative current and electrolyte solution, the micro geometrical shape of the stainless steel surface will be changed. The function of electrolysis is like polishing but it is much better than mechanical polishing because it is not limited by the position and shape of bottles. While, outer wall of the water bottle will be polished by grinding machine manually.
At this stage, a stainless steel water bottle is finished. To sum up, please refer a flow chart below for reference of the general process.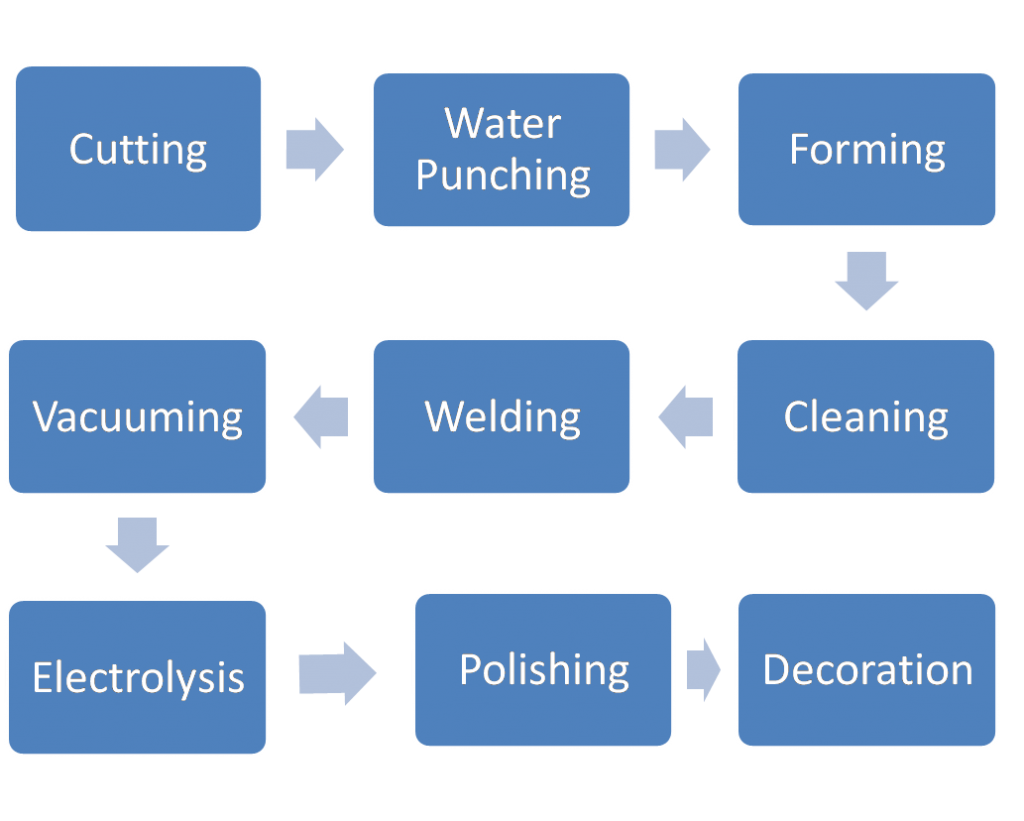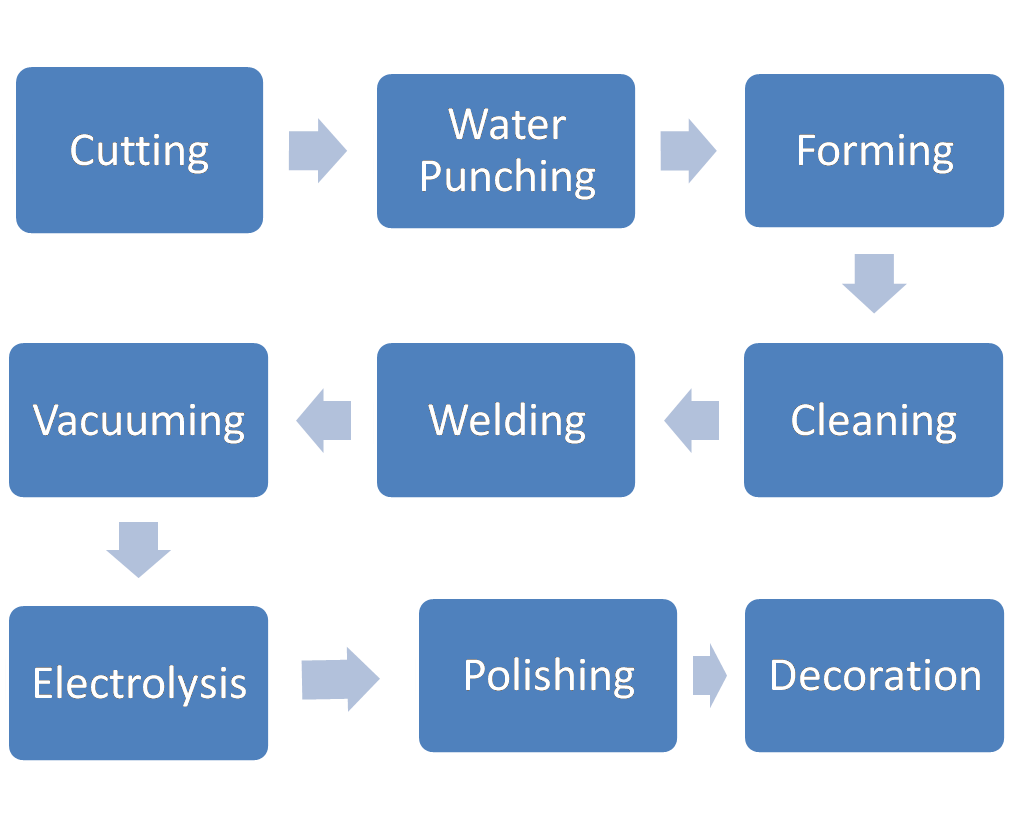 Custom printing
In subsequent, we are going to customize or personalize the water bottles into different colors and pattern. Regarding to single color or gradient color water bottles, we usually use spray painting or power coating. And the logo will be made by silk screen printing, heat transfer printing; pad printing or laser cutting depends on specific design of logo and requirements from the client. Well, there are also many graphics and pattern that complicated. Please do not worry. We can make them with digital printing, hydro graphics transfer printing or paint dye printing. It is our mission to carry out the custom stainless steel water bottles as your expectations!
Packaging
Last step is the packaging of the water bottles. The commonest individual packing of the stainless steel water bottle is poly bag and white box as you can find from the supermarket. Sometimes, unique colour boxes are also required by clients. Sometime, we will also use non-woven bag or tissue paper as required by environmental concerning clients.
Customize stainless steel water bottle are growing in popularity. Made in China does not necessarily mean low quality. American society generally mistakenly believes that Chinese products are of low quality and easily damaged. In fact, many of the products we use and rely on every day are made in China, and most of them are of high quality. Including but not limited to iPhones and Android Phones, and most of the steel we use to build the buildings we live in and  the roads we drive on. When searching for stainless steel water bottles, you will find that most of them are made in China.
I do hope that you have had a brief idea about how to produce customizable stainless steel water bottles after reading this article. And we also welcome you to come over to our factory to learn more about it. The actual production is far more interesting than the words! Looking forward to your coming to witness!