5 Benefits of using stainless steel tumblers
Stainless steel tumblers may not look as gorgeous as beautifully made glass cups, but they provide more unique benefits. People may doubt this, however, it is actually true. There are many advantages to using custom stainless steel tumblers.
1.1 Lifetime lasting
Stainless steel is quite indestructible. Use for life and will not be weakened by repeated use. On the contrary, glass cups are fragile. And they are usually not the best choice for large events and venues. Aluminum bottles may be tough, but they are prone to corrosion and leakage. The inside of the synthesis will eventually decay over time. Plastic can disintegrate or crack overuse and washing. And it cannot hold hot liquids. It can even melt when exposed to extreme heat. Therefore, in terms of durability, stainless steel tumblers beat them all.
1.2 Safest material to hold your drinks
The natural ingredients of stainless steel are non-toxic. They are free from BPA, lead, zinc, phthalates and other toxic materials that are linked to health issues. Therefore, more people are opting to buy stainless steel products.
Stainless steel is well known for its hygienic and antibacterial properties. Therefore, it is widely used in the beverage and food industry. Our custom made stainless steel tumblers do not leak. And it does not contain interior coatings or linings that will eventually disintegrate. Stainless steel does not react with acid, so it can ensure that the liquid in the tumbler does not produce strange tastes.
1.3 Easy to clean and maintain
Unlike plastic and glass, Stainless steel is a breeze to clean and resistant to stains, rust, and corrosion. All our stainless steel tumblers are designed with wide-mouth openings. Whether you're washing it by hand or placing them in a dishwasher, they are more functional to use and easier to wash. The tumblers don't have sharp edges or angles and it is not easy to accumulate dust or bacteria. The wide thread and simple lid design help to wipe away sediment, dirt and bacteria hidden in small corners more easily. With a little love and care, our custom printed stainless steel tumblers will look and perform great for years to come.
1.4 Environment-friendly
Every year, billions of plastic cups and bottles end up in landfills. In contrast, stainless steel tumblers are durable, recyclable, reusable, and environmentally friendly. Stainless steel tumblers can be reused for many years. They can even be 100% recycled at the end of their useful life without going through the waste stream, away from landfills.
1.5 Great for outdoor activities
Due to the durability of stainless steel tumblers, they are very suitable for outdoor activities such as picnics and camping. Although the paper cup is very convenient, any beverage placed in it will cause the paper cup to quickly collapse and soak. Stainless steel tumblers are not only suitable for general cold or hot drinks, but also can easily mix drinks, alcohol or non-alcoholic. Our specific tumblers can also be stacked for easy carrying to any party or outdoor event.
Different styles of custom stainless steel tumblers
In order to better carry your favorite beverage when you go out, you can choose the stainless steel tumblers that suits you best according to your drinking preference. But they're all incredibly durable and resistant to picking up smells, no matter which you choose. Most will also be able to keep your drink at the optimal temperature for hours.
When sifting through your choices, please consider the following:
2.1 Hot or cold
While all of these containers can handle both hot and cold beverages, some are better than others under different circumstances. If you prefer hot drinks, look for slider lids that allow you to test the water before taking a gulp. Tumblers with lid openings can also suitable for cold drinks, but if you prefer ice-cold and easy-to-drink beverages, consider using a straw. However, drinking a cup of steaming coffee with a straw may be a risky proposition.
2.2 Insulated or not
If you want to sip throughout the day, whether you like hot or cold drinks, you need a vacuum-insulated tumbler that can keep it at the right temperature for hours instead of minutes. Through vacuum insulation, the air between the roller layers is sucked out, and the air-free space reduces temperature changes and heat transfer. This type of structure also eliminates sweating and condensation.
2.3 Aesthetics, size & maintenance
Due to your preference for different colors and capacities, we can customize stainless steel tumblers that meet your aesthetic needs. And according to whether you want to easily throw the tumbler into the dishwasher or cup holder, tailor it.
Now that you know what you are looking for, please continue to scroll through our best-selling custom stainless steel tumblers we recommend for you.
20 OZ Insulated Stainless Steel Coffee Tumblers
This vacuum-insulated tumbler is made of durable stainless steel material and non-slip handle, which can effectively maintain the temperature of your favorite beverage. Double walled insulated technology provides a good ability of insulation, and thermal copper lining keeps liquids hot for 6 hours while icy drinks cold for 12 hours.
The BPA free sliding lid allows you to drink easily, and it can be safely locked after drinking to minimize spillage. And the lid comes with 2 layers silicone sealing ring for maximum splash-proof capability. It has a drink hole, instead of flipping the lid, you can choose a plastic straw to to enjoy your drink.
The outer wall of stainless steel tumblers will always stay cool and sweat-free, so you can hold it comfortably and enjoy your drinks in a stylish way.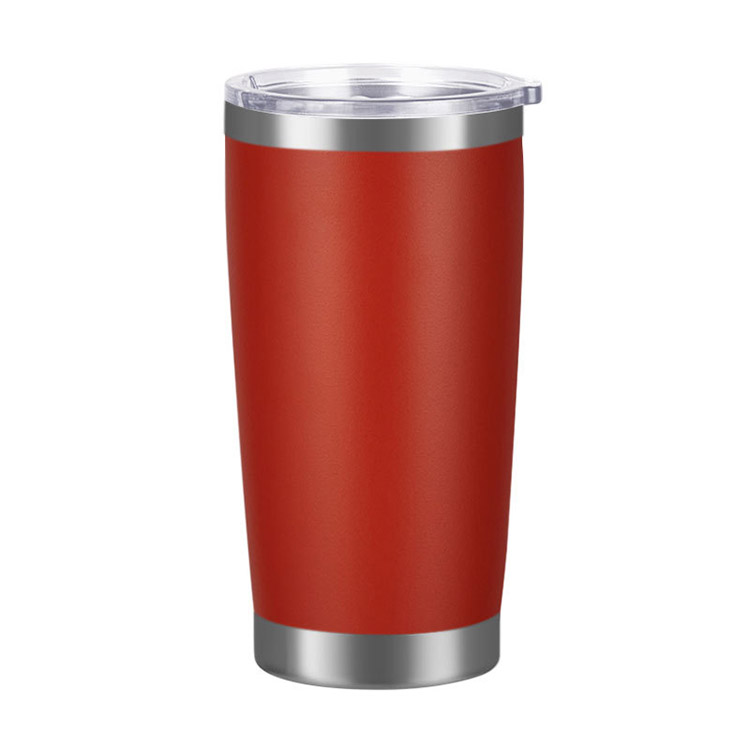 12 OZ Custom Stainless Steel Tumblers With Lid
This economical stainless steel tumblers are available in nearly 20 colors and patterns.
When you go out for hiking, camping, or even at a backyard picnic, the shatterproof design of these custom made stainless steel tumblers are great for sipping wine and other drinks. They have double-wall insulation design, which can keep drinks hot for up to three hours and cold for up to nine hours without sweating.
"I put some ice and water in the tumbler at about 10 o'clock in the evening. At 6 o'clock the next morning, it was still cold, and there was ice in it. For the test, I continued to let it stand until 6 pm. When I came home from get off work, the ice had melted, but the water was still ice cold!" one fan wrote.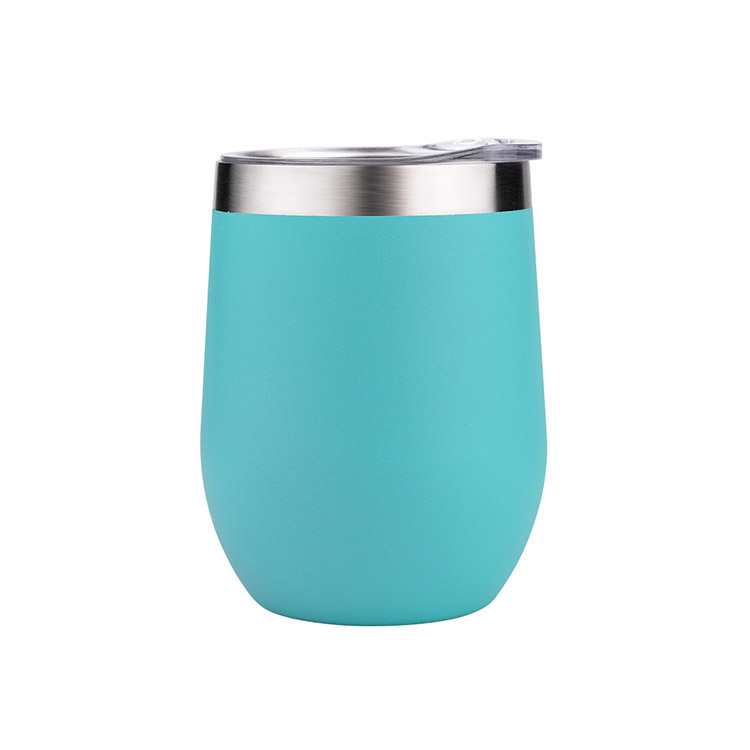 14 OZ Customized Stainless Steel Travel Mugs
The 14 oz custom stainless steel travel mugs use 304 food-grade stainless steel, durable and shatterproof. Double insulated technology can keep drinks hot up to 12 hours and cold up to 24 hours. Comes with a AS spill-proof clear push-on lid, wide handle and non-slip silicone base.
We have our own technician and designing team. Regarding to your requirements, we can customize the logos of the stainless steel mugs for you, including silk screen printing, heat transfer printing, pad printing and 3D printing. We can also customize a variety of colors for your stainless steel travel mug, which offer many ideal gift options on special days. For example, on wedding, birthday, Christmas, Thanksgiving, Valentine, Mother's Day or Teachers' Day.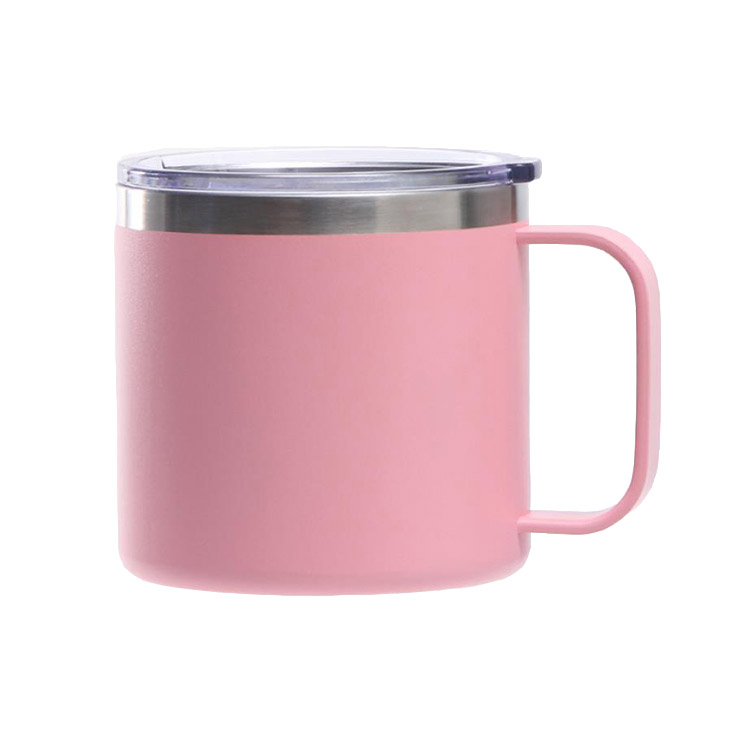 3. Multiple uses of metal tumblers
Every day, millions of people are using reusable stainless steel tumblers to keep their coffee warm. But did you know that besides maintaining the perfectly heated temperature of your morning coffee, tumblers have a multitude of other uses ? Let's take a look at other creative and useful ways you can utilize your stainless-steel tumbler right now.
3.1 Use as a kid-friendly drink cups
Stainless steel tumblers are very durable and will not hurt children like traditional glass cups. You no longer need to invest in expensive sippy-cup style beverage holders. For older kids, using the tumblers usually used by mom or dad will make them feel special.
3.2 As gift
The use of the tumbler can also be extended to gift giving. High school or college graduates like to print the school and sports team logos on stainless steel tumblers as a souvenir. Since the custom printed stainless steel tumblers can be further personalized with logos or other patterns, they are perfect gifts for friends or family.
3.3 Heat and cool preservation
3.3.1 Cold insulation function
The double-wall structure is perfect for keeping smoothies or milkshakes frozen for several hours. Therefore, your smoothie will become portable and ensure that it stays deliciously cold for a long time. At the same time, iced drinks will stay chilly longer in your tumbler as well. You can drink all the delicious cold drinks you want more easily than ever.
3.3.2 Keep vital medicines cool
Use ice cubes in the tumbler to ensure that life-saving medicines such as insulin will not fail due to overheating. You can use this technique at home, while traveling, or when transporting medicines. For example, if you need to take medicine with you when you go out, you can put the medicine-filled tumbler in the car cup holder to ensure that your essential medicines will never disappear or misplaced.
3.3.3 Keep your liquid foods hot longer
No one likes lukewarm soup, but usually there is not a cup or bowl that can keep the heat of a soup for a long time. However, our custom made stainless steel tumblers can. Pour very hot water into the tumbler to preheat it. Then, take out the water and replace it with hot soup, which can be kept warm for a long time for consumption. You can easily transport it to the office or take it with you in the car for food during the journey. You can enjoy delicious soup without holding a hot ceramic bowl.
3.4 Good containers
3.4.1 As a floral container
Use it as a tall floral container, fill it with cool water, your flowers will stay fresh and look great. You no longer need to buy a vase. A modern look with stainless steel, tumblers can look stylish and unexpectedly luxurious without the high price of a fragile vase.
3.4.2 As a kitchen tool holder
The custom stainless steel tumblers have a perfect height and size to store commonly needed kitchen tools on your countertop. Instead of buying yet another container for the spatula, spoon, or whisk you use all the time, use your tumbler. Store your kitchen utensils smartly inside the tumbler at your fingertips, rather than hidden away in the drawer.