In recent years, compared to plastic and glass water cups, stainless steel coffee mugs have become more and more popular. The specific reasons why people choose stainless steel mugs vary widely, but its heat preservation performance must be one of the reasons why people buy it. Most stainless steel thermos mugs can keep cold for 24 hours and keep warm for 12 hours, and are suitable for use in any season of the year. But when choosing reusable water cups, many people are easy to fall into selection difficulties, or do not understand why they should give up using disposable plastic water bottles.
So, today I will introduce to you, why choose the stainless steel mugs?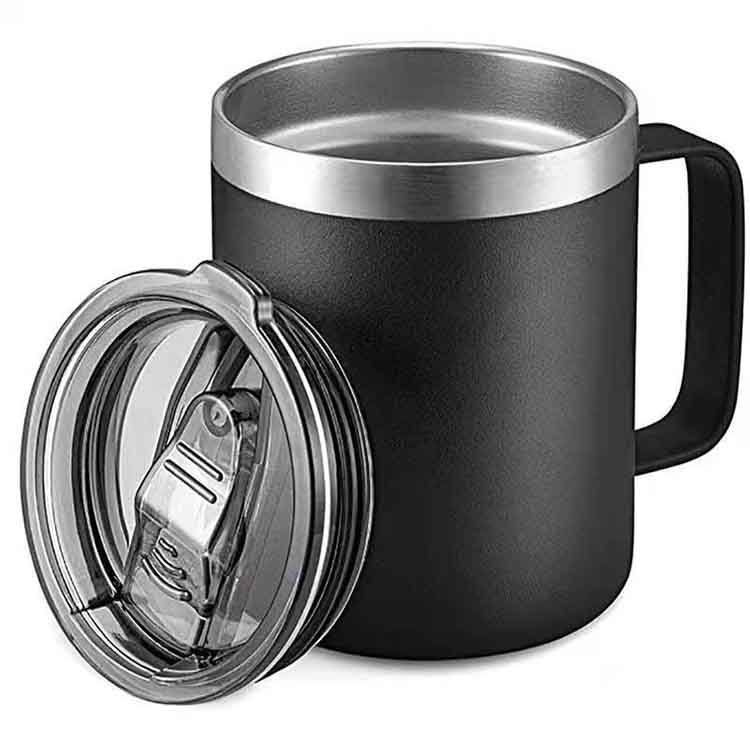 1. Compared with the recyclable paper cup, is the reusable stainless steel thermos mug more eco-friendly?
The first "R" of the three recycled "R"s tells us to reduce waste, and the second "R" tells us to reuse as much as possible. It is therefore that Steel is actually superior to recyclable paper. Steel meets all three of the "R"s of Recycling, does not need to be disposed of in the waste stream, is 100% reusable, and is often made from scrap metals recycling.
1.1 Recyclable is good for the environment
In the United States alone, 1,500 disposable plastic water bottles are consumed every second. This has led to a large amount of plastic waste pollution, especially 80% of which cannot be recycled. As a result, more than 38 million plastic bottles will be transported to landfills throughout the United States.
The good news is that more and more people regard reusable stainless steel thermos mug as a substitute for plastic bottles.
Environmental protection is one of the biggest advantages of stainless steel mugs, because when the number of people using stainless steel mugs exceeds the number of plastic bottles, it also means that the fewer plastic bottles we see in landfills every year. When we use stainless steel mugs, plastic pollution is reduced; when stainless steel mugs are not used, it can be recycled.
1.2 Production is more energy-efficient
Over time, stainless steel mugs require less energy than plastic water bottles. At first glance, this point of view is a bit problematic. The production of stainless steel requires stainless steel materials and abrasive tools, and the engineering is huge. However, stainless steel is not a fast-moving consumer product. The service life of a vacuum flask is much longer than that of a plastic water bottle. With the extension of its service life, a stainless steel mug is indeed.
1.3 Sustainable use
When it comes to sustainability, the topic that cannot be avoided is the durability of the cup. To put it bluntly, how long can the cup last? Many water cup manufacturers also test the durability of water cups. Generally speaking, the service life of stainless steel thermos mugs can reach 12 years. The durability of the stainless steel vacuum flask is mainly attributed to the material. Stainless steel can withstand high impact without too many signs of wear. Coupled with the aforementioned recyclability, the stainless steel vacuum flask has become the first choice for the most sustainable lifestyle.
2. About the material of stainless steel coffee mugs
2.1 Tough
While other stainless steel mugs may use a thin and cheaper 201 steel, we never cut corners. For the interior and exterior, we only use premium 304 food-grade ultra-thick stainless steel, to provide customers with durable thermos stainless coffee mug.
Our stainless steel coffee mugs with handles use food-grade 304 stainless steel. Highly resistant to rust, durable and shatterproof. Thermos stainless coffee mug will not rust or lose its luster, no peculiar smell, better than glass or plastic cups.
2.2 Heat preservation
Double wall vacuum insulated technology, keep your beverages hot for 12 hours and cold for 24 hours. People will enjoy hot or cold beverages with this durable, lightweight stainless steel coffee mugs. Regardless of the weather outside, 2 layers of insulation can maintain the temperature of the beverage. Help you to enjoy coffee at the temperature you want.
The outside of the vacuum sealed area is dipped in copper to increase insulation and sweat proof. Vacuum technology makes the out wall sweat-free and keeps fingers dry. Even if the mug is filled with hot water, it will not burn your hands.
3. Different types of stainless steel coffee mugs for you to choose
When you always aim to keep your coffee hot, according to your preference, you can choose different types of mugs. In the final analysis, it must serve its purpose and be able to deliver beverages anywhere comfortably. Therefore, if you are confused while making a choice, then you could surely select a suitable mug from the list compiled below.
3.1 Stainless Steel Mugs
Unlike other mugs, stainless steel mugs have a stylish design. With vacuum insulation technology, which helps to maintain the temperature for several hours. In addition, the compact design can hold a large amount of coffee. No matter how you carry the mug, the safety lock can reduce the risks of spillage.
3.2 Thermos Stainless Coffee Mugs
If you prefer drinking coffee at frequent intervals, then you should go for stainless steel thermos mug. It's worth investing in such items, because you can carry them when you set out for hiking or fishing. In addition, they are more cost-effective than other mugs.
Some people say that stainless steel water bottles are much heavier than plastic water bottles, but this is not the case. In fact. With the development of modern technology, many stainless steel water bottles are not much heavier than plastic water bottles, and can be lightweight and portable, especially when filled with water.
So, put the stainless steel coffee mugs with handles in your carry-on bag, you can enjoy coffee at any time. At the same time, you don't feel that the mug increases the burden.
Generally speaking, travel mugs are made of stainless steel, which is easier to clean. 304 food-grade stainless steel, durable and shatterproof. Double insulated technology can keep drinks cold up to 24 hours and hot up to 12 hours. Comes with a AS spill-proof clear push-on lid, prevent any dust particle getting in, rubber gasket to reduce splashing. As they are made according to standard car cup holders, it will never be a problem to carry such mugs
3.4 Hand Vacuum Mugs
The stainless steel mugs with handles use food grade 304 stainless steel and AS sealed straw lid, 100% BPA free, and easy to clean. Double wall vacuum insulated technology, keep drinks hot for 12 hours, cold for 24 hours. Sweat proof design keeps fingers dry and away from frostbit. And the mugs also have leak-proof lid and comfortable handle.
4. Wide range of use
The thermos stainless coffee mug is stylish and practical, very suitable for daily drinks, tea or coffee.
Applicable to various sports occasions, like camping, travel, boating, picnics, the pool, the beach, road trips, outdoor adventure and sports event.
The stainless steel thermos mug has various color, which offer many ideal gift options on special days. For example, on wedding, birthday, Christmas, Thanksgiving, Valentine, Mother's Day or Teachers' Day.
5. Conclusion
As a stainless steel mugs manufacturer, we can tell you, the vacuum-insulated stainless steel coffee mugs will keep your coffee the hottest, always.
This is because a double wall stainless steel mug has the vacuum layer, and the heat will not be conducted from the inside of the mug to the outside. Although the heat that the foam of the foam insulated cup can conduct is not much, it is a hundred times that of a vacuum.
Stainless steel is a popular material for coffee mugs. At the same time, stainless steel is non-porous, and like ceramics, it will not affect the taste of coffee. However, it can help your coffee keep hot for a longer period, that is why it is the first choice for travel mugs.
Plastic, paper, and foam are not recommended. Not only because most of these materials are disposable, but also affect the taste of your beverage. Plastic and polystyrene foam are porous, allowing toxins to penetrate your coffee. As for the paper cups, when it becomes soggy, it will undoubtedly cause some paper materials to end up in your drink.