Ghosts, grunting pumpkin, bats, skulls, oh my, it's a tick or the treat time. Get your home ready for the upcoming Halloween with these spooky and much creepy Halloween mason jars. These Halloween jars will spice up your fall decor, creating a new magic. It can be a perfect addition for your Halloween parties or winning the way as the spookiest house of the neighboring. These Halloween craft jars will boost up your spirits and energy along with saving lots of time.
These Halloween mason jars had come a long way from being used to used food in 1858. Now has evolved to be great party options without which the party might turn flop. During the parties, these jars can keep a wide variety of stuff. These Halloween painted jars can keep the party utensils in a much more organised manner, or can hold sweets or candies or as a vase to place your favorite bouquet. These wide usages make the mason jars a must for the parties.
These pumpkin jars minimize your efforts to decorate the entire thing, but if you want, you can grab these mason jars and add a pinch to them with the various mason jars Halloween crafts. With a little bit of skill and ingenuity, these mason jars can become a candle holder, drink decanter or soap dispenser. There are many options to choose from, whether you want to go for something cute or something spookier, it's all up to you. Some of the best mason jars to select from.
1. Cnunited Skull Shape Custom Plastic Mason Jars
Coming with their lid and straw, these Halloween jars add a whole new life to your parties, along with adding colors with its bright and vibrant set of colors. Serving beverage in these Halloween craft jars will be a great idea to create the much needed spookier and somewhat creepy ambiance. According to the theme of your party, we can also customize some personalized printing designs on these jars for you.
These jars use food grade safe materials, 100% BPA free along with being eco-friendly and recyclable. People usually use plastic mason jars to decorate and store food items. These mason jars can also be further decorated with some Halloween mason jar craft ideas. Just cut out some spooky creatures and paste it all over the body of the jars. And then you can get a mason jar full of Halloween atmosphere. Nothing else can replace these sets of jars, just try buying it once you will understand what difference it can make.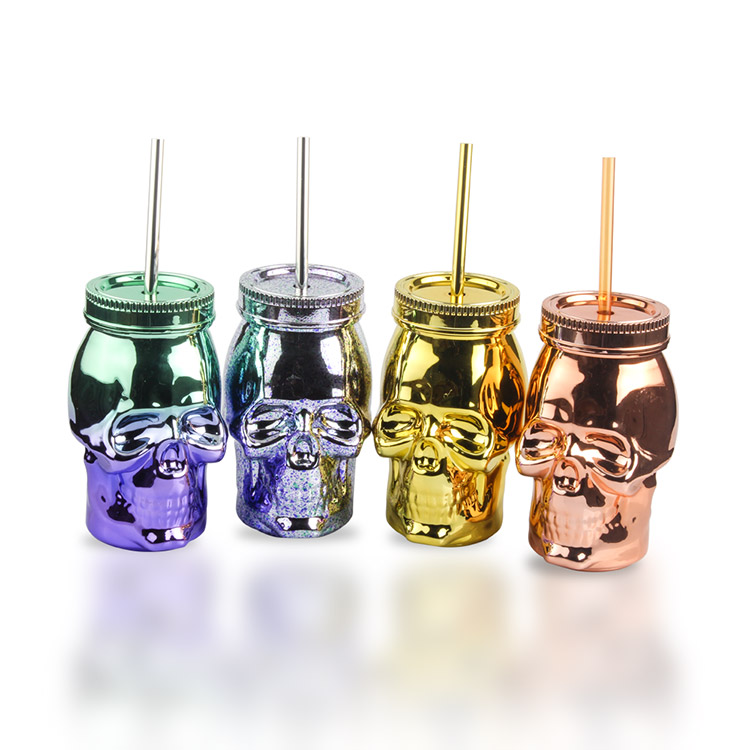 2. Cnuinited Double Wall Gel Freezer Mug
The orange pumpkin jars with some creepy Halloween creatures printed on them, making these mugs suitable for Halloween occasions. The plastic double wall tumbler can also be frozen to keep your beverages for the party cold. You can also fill these Halloween jars with licorice vnes, pretzel rods, tootsies pop and various other candies, making it even a perfect gifting option. We are sure that these jars can bring a smile to everyone's face. These properties and usage make mugs become a high selling product and are popular with all the age groups. So they can be a great addition to your bookstores, gift shops, souvenir stores and retail locations. You can get it for your whole team as a token of appreciation and inspire their energy and spirits.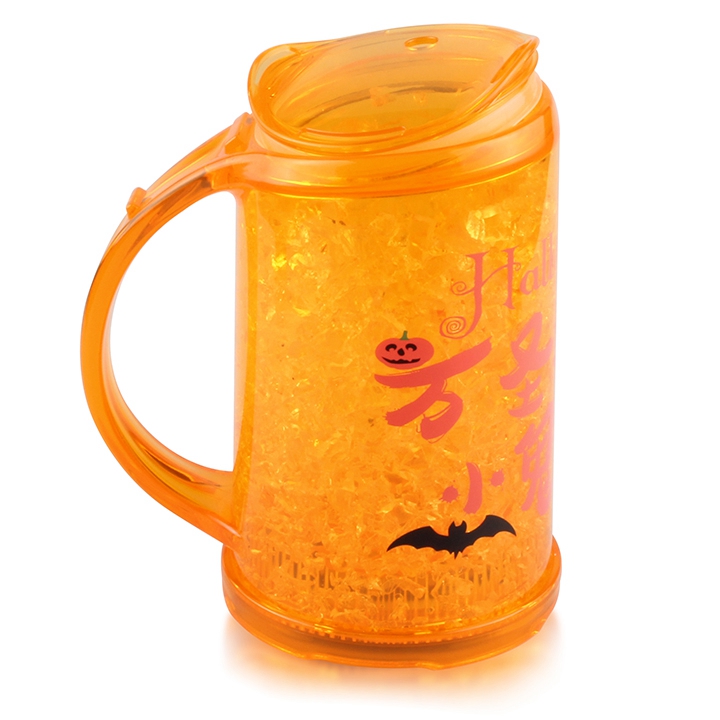 3. Cnunited Plastic Custom Plastic Jars for Halloweens
Adds both refreshment and style to your life with these durable and dishwasher safe pumpkin jars. Their classic look can be the centre of attraction. These Halloween painted jars can be entirely customized according to the need of the occasion. They are pumpkin colored with a black lid and have a Halloween Grimace printed on them. As the ultimate choice for Halloween, giving you a complete Halloween feeling. These bottles are a great option for kids and could be considered for any Halloween themed celebration including Halloween party, as a Halloween promotion gift and can also be used in bars.
These jars use AS material and come in three varieties and can even be printed with further different artworks according to your choice.  You can print Various vivid images with the Halloween themes in the bottle, like a grinning pumpkin, witch, monsters, boo, hocus pocus, caste on Halloween, Halloween owl and many other spooky characters.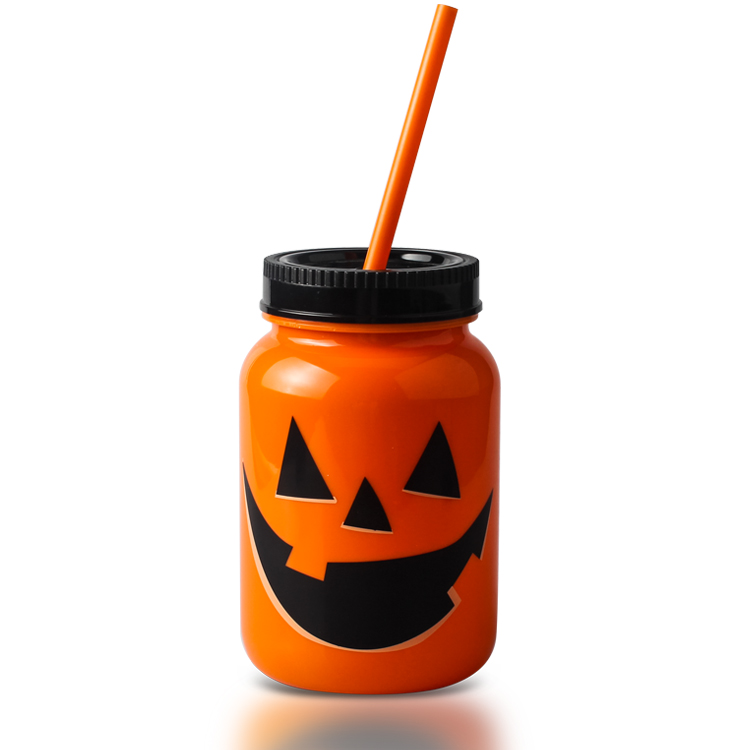 4. Cnunited Skull Shaped Tumblers
These insulated Halloween skull-shaped mason jars can be a perfect choice for any Halloween themed occasion. Whether it's a party, bar, promotion or travel. They are relatively good for the children because they are without any lining, BPA free and free of toxins. As these Halloween craft jars comes with a lid, so can be your perfect companion. And you can carry them anywhere, like school, office etc.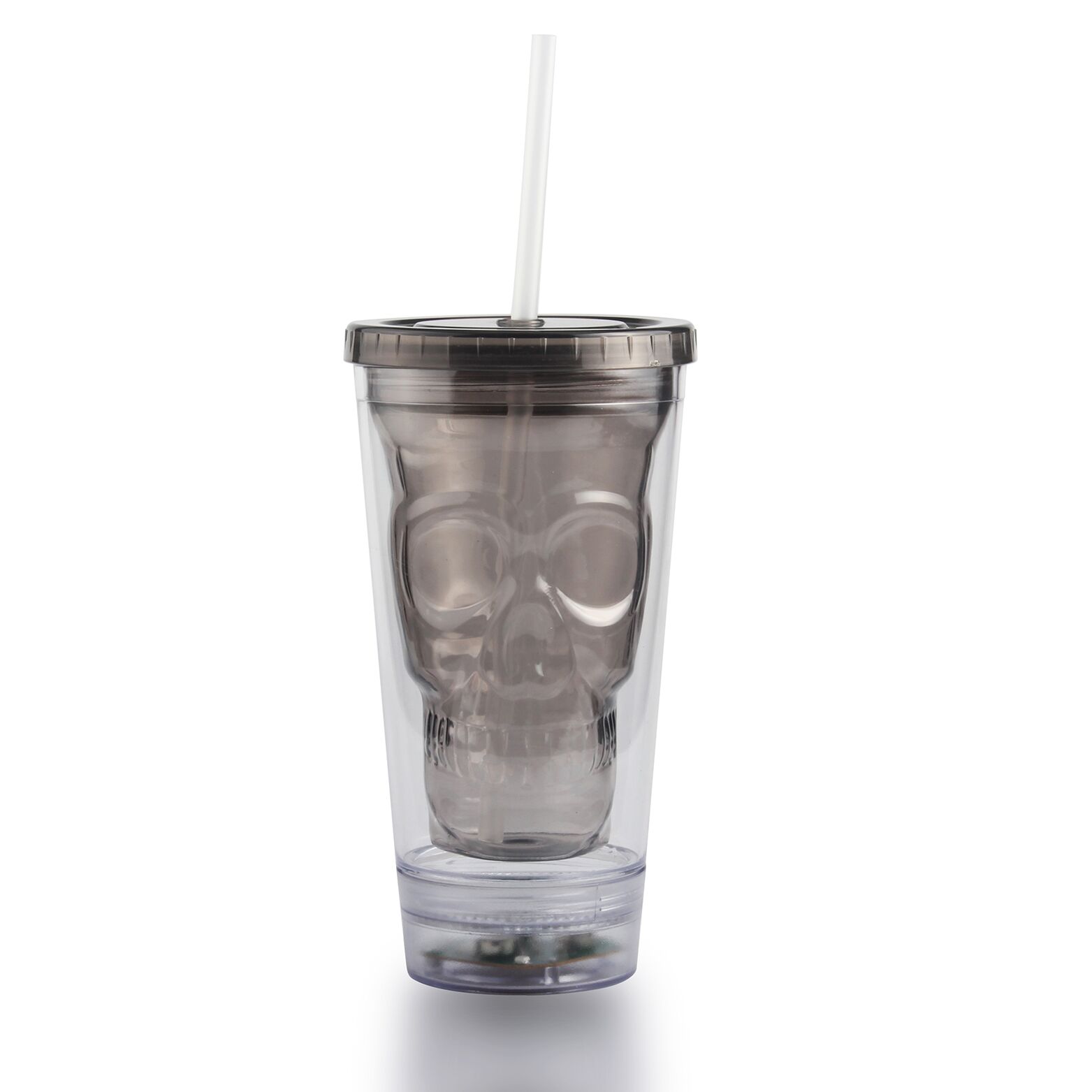 All in all, spice up your spookiest night and give a way to your Halloween fever with these Halloween mason jars. With a led in it, they come in a variety of colors adding magic to your life. Already coming with a skull shape and vibrant color, you can also enhance the look of these jars with some simple mason jar Halloween crafts. Just paste either one to two creeping, crawling monsters or jiggling monster eyes, and you will have a Halloween container that will look great on the party table.