From a smart water bottle connected to your phone to an insulated water bottle that keeps your water warm or cool, you may have the best water bottle. At the same time, you have your diet, walk every day to get some exercise, but it may be difficult to suddenly increase the number of cups of water you drink every day. If you are looking for a way to drink more water, the water bottle with time markings ready to help you achieve your goals.
What Is A Water Bottle With Time Markings?
What Do The Lines On The Water Bottle Mean?
The lines on the water bottle can be used to mark the time and remind you how much water you should drink every hour, allowing you to maintain enough water throughout the day. Time markers for smaller water bottles are usually separated by an hour. After the AM time markers ends, you need to refill them in the afternoon of the day to continue using the PM time markers. But for those water bottles with a capacity of more than ½ gallon, there is no need to refill them throughout the day.
Some water bottles not only come with time markings, but also has interesting inspirational quotes along the lines. This is to keep you in a good mood and help motivate you to drink more water.
Is Water Bottle With Time Markings Handy Or Harmful?
These water bottles use high-quality, reusable BPA-free materials. Therefore, compared with disposable plastic bottles, they are very durable, environmentally friendly and contain no toxins. These water bottles are the best choice to maintain our overall health and protect the environment.
Can Reusable Water Bottle With Time Markings Be Recycled?
Your reusable water bottles may serve you for a long time, but they will inevitably wear out over time. When this happens, you just need to reach the recycling points around you and they will recycle for you. Or you can simply recycle them at home and reuse them for other purposes, such as vases, pet food storage, etc.
Why Would You Need A Water Bottle With Time Markings?
Drinking enough water daily is a bit difficult for some people, and water bottle time markings is here to help. Put a water bottle in your gym bag or at your desk. The water bottle with time markings makes it easy to see the amount of water you are drinking as time passes and when it is time to get a refill.
How much water should you drink in a day?
There are no specific figures for the amount of water to drink, because it will vary with age, activity level, and body temperature, but experts recommend drinking about 6 to 8 glasses of water a day to get enough water. The Institute of Engineering Medicine of the National Academy of Sciences reports that women should consume approximately 91 oz of water from food and beverages a day, and men should consume 125 oz of water a day. This in itself is difficult to calculate, so eight cups a day is generally accepted. Even more surprising is that about 20% of your daily water intake usually comes from the food you eat.
If you care about your health, you should develop the habit of drinking water throughout the day. Pay attention to symptoms of dehydration, such as dry mouth, thirst, dark urine, or dry skin, and drink water at any time. You can buy gallon water bottle, which will help you stay hydrated.
Significance Of Water Bottle With Time Markings
Water is the most important part of the human body, because it accounts for about 60% of the body's total weight, so it is very important to maintain water balance. The body can insist on not drinking water for up to three days. Of course, this is based on your inactivity and non-sweating. Therefore, drinking enough water is essential.
Mild dehydration may impair your brain function in various ways. It can also affect your concentration and mood. Severe dehydration can cause chronic fatigue, kidney-related problems, skin conditions, and high blood pressure. Keeping moisture can help your nails, hair and skin rejuvenate and detoxify your skin from harmful toxins. It can also help digestion, lubricate joints, relieve headaches, and treat kidney stones.
Drinking enough water is not only good for your overall health, but replacing sugary drinks with water can help you reduce calorie intake and lose weight. In addition, the Harvard Health Center stated that drinking water helps normalize blood pressure, stabilize heartbeat, regulate body temperature, and more.
In fact, calculating how much water you have drunk, or whether you have drunk enough water is very challenging. And this is where the water bottle with time markings comes into play, allowing you to stay hydrated throughout the day.
How To Use The Water Bottle Time Markings?
Unscrew the cap the of water
According to the bottle opening's size, ice cubes can be put in to keep the water chill.
Add water to the top marking
Complete your drinking water goal throughout the day by reaching each time marking line. For instance, at 8 AM, you should drinking water until you reach the "8 AM" time marker line. Next to the time marker, there is usually an inspirational quote to motivate you. Then at 10 AM, drink until the "10 AM" line. For each time interval, the same is true, continue to drink water until the last marked line. Some bottles are equipped with wide straws for easy drinking.
At the end of the day, rinse the water bottle time markings with tap water. In order to ensure safety and extend the use time, usually, we recommend washing it by hand instead of putting it in the dishwasher.
Repeat the same operation for the next day as well.
Some Types of Time Marking Water Bottles
Ready to focus on increasing the amount of water you drink to stay healthy? Try one of these inspirational water bottles and start drinking more water now. We recommend the following high-quality water bottles for you, including the 32-ounce option and the one that can fill a gallon. They come in many colors, and you will surely find one that matches your aesthetics.
Gallon Water Bottle With Time Markings
The gallon water bottle is made of food-grade PETG material, BPA-free and odorless. It can be reused to protect the environment from the pollution of disposable plastic bottles.
The large capacity of 1 gallon allows you to enjoy a full bottle of water without frequent refills. And can meet the water needs when you exercise hard outdoors and indoors. Large water bottle mouth is wide enough to add ice cubes or fruits like orange, lemon.
The gallon water jug with time markings is suitable for measuring your daily intake of water. remind you stay hydrated and drink enough water every day.
This large water bottle includes 2 replaceable lids, 100% leak-proof, one with a silicone straw and one without. Switch styles according to your usage scenarios, drinking preferences, etc. The high-quality nylon wristband is durable enough to be carried around. The humanized design of the handle makes it easier for you to drink and carry.
Plastic Motivational Water Bottle With Time Markers
The water bottle uses quality food grade eco-friendly Tritan plastic, which is 100% free of BPA, BPS or any other bisphenol. Water bottles made of Tritan plastic are transparent and durable.
32 oz motivational water bottle, remind you of the best time of day to drink. Make sure you drink enough water daily. It is very suitable for people who have a hard time drinking water or rarely drink it. At the same time, the inspirational quotes can increase their daily water consumption.
The wide mouth discharges water evenly and smoothly. Soft and Comfortable straw, completely embedded in the groove of the lid. When you need to drink with a straw, just press the button on the lid, and the straw hidden inside will pop out. The operation is convenient and simple for your use. The bottle is very lightweight and comes with a wrist strap for you to carry.
With the flip top design, this water bottle is dust and leak-proof. And can keep your drinking straw hygiene. You can open it with one single click. After closing the top lid, gently buckle the lock can prevent leakage effectively. Simple and strong locking function, absolutely no leakage even the water bottle is upside down.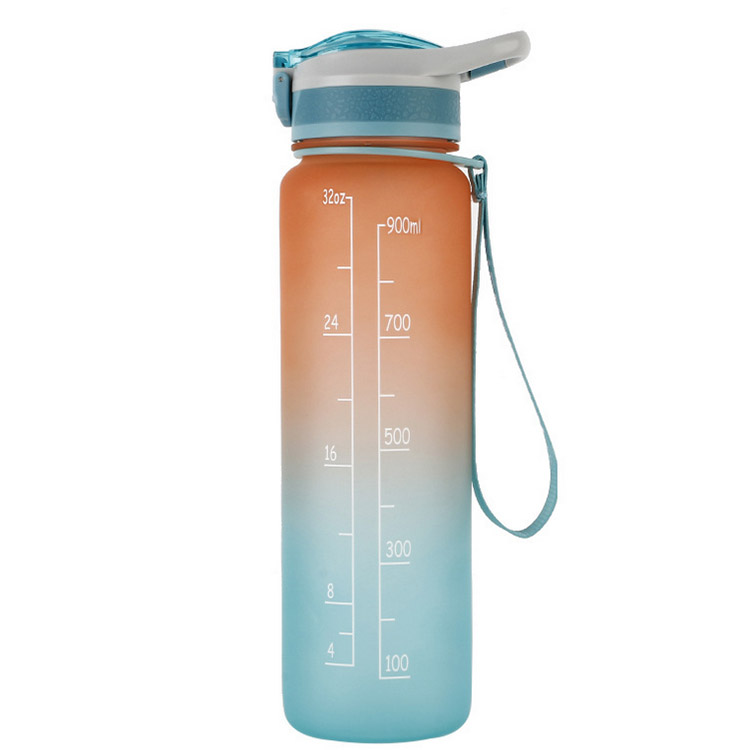 Regardless of your trajectory for the day, these water bottles with time markings will help you stay hydrated, so you can easily accomplish your drinking goals with enthusiasm and energy. With a water bottle with time markings in hand, drinking more water will be an easy goal to achieve.