Description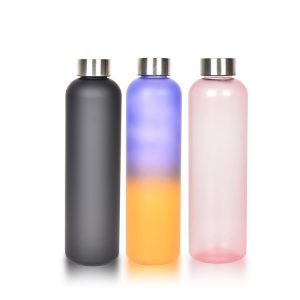 1.Material
This custom water bottles with inspirational quotes is made of PETG. Compared with other plastic materials, PETG has excellent transparency, gloss, good toughness, processability and excellent coloring. In other words, it can improve the low toughness of traditional polyester water bottles. Especially suitable for making this large capacity thick wall clear water bottle, highly transparent, unbreakable and easy to finish.
At the same time, the PETG material can meet the US FDA's food contact standards. Therefore, the water bottle does not contain BPA, is non-toxic and environmentally friendly, and is suitable for drinking.
2.Customized Service
We can customize the color for you by PMS code. Both monochrome and gradient colors are available. We can also print LOGO on the surface if you need. We have a professional designer team to provide you with cutting die drawings and renderings, according to your requirements. And there is an experienced production team for plate making, proofing and production. Make sure the final effect of the water bottles with inspirational quotes is what you want.
Of course, the capacity, material, accessories and outer packaging of plastic water bottles all support customization. We can provide personalized packing and crating services. Source manufacturer, meet demand and provide best price for our partners.
3. Special Design of Plastic Water Bottle
Stainless steel bottle cap design, stylish appearance. At the same time, the food-grade rubber ring inside the lid ensures that this water bottle is absolutely leak-proof. The slim bottle fits in your bag or car cup holder for easy on-the-go hydration. Matte texture, beautifully crafted, 32oz large capacity water bottle. It is the best choice for supermarket promotions, company annual gifts, camping rides, and holiday gifts.
Custom Water Bottles With Inspirational Quotes Wholesale
Material: PETG
Capacity: 32 oz
Size: 7.5*7.5*28cm
Weight: 118 g
Color: Gradient Color