Description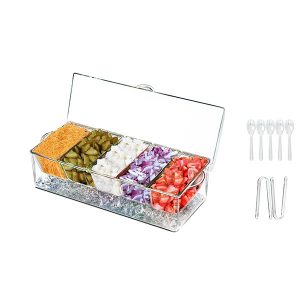 Design: This clear fruit garnish tray is made of 100% BPA free and food safe PET material. Includes 5 removable compartments. Garnish tray with lid can keep items cleaner and tidier. There is a lot of space for ice at the bottom of the box, which can keep it cold for a long time. No need to worry about food damage even outdoors. A water outlet after melting is installed to make drainage more convenient, and it is sealed with a silicone plug.
Usage: The garnish tray set has serving tongs and sporks. It is suitable for indoor or outdoor parties, including family gatherings, social events, picnic, camping, etc.
Cleaning: This transparent condiment tray can be rinsed off with water after use, hand wash easily. It is easy to use and keep clean.
Clear Fruit Garnish Tray for Bar
Material: PET
Style: Clear
Weight: 1133.6g
Dimension: 41.5 x 16.5 x 14 cm
Number of compartments: 4
Capacity of single compartment: 24oz