Description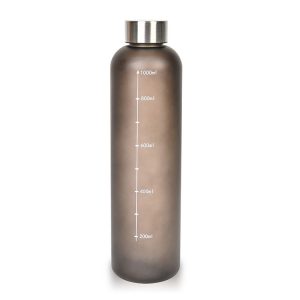 There are several reasons for choosing customized company logo motivational sport water bottle with screw cap:
1. Material
1.1 High-quality performance: PETG has extremely high toughness, excellent tensile performance and good impact resistance. The super toughness greatly reduces the breakage of the water bottle during transportation and use, making it safe and durable.
1.2 Environmentally friendly plastic: PETG is one of the few environmentally friendly plastic materials so far. The material can pass the SGS, FDA, MSDN and other certifications.
2. Customization of Sport Water Bottle
2.1 Custom attributes: This PETG plastic water bottle can be designed in any shape according to the designer's intention. And can adopt traditional extrusion, injection molding, blow molding and other molding methods. The bottle body has excellent printing performance and coating performance. That is to say, the surface can be printed (screen printing, pad printing, etc.) or sprayed without any special treatment. Moreover, the bonding performance with the surface coating is very good.
2.2 Source factory: Our professional equipment and staff can fully realize your customized needs. Including but not limited to the appearance, color, logo and packaging of the cup. Providing the best quality service and the best price is the tenet of our enterprise. We can especially provide you with the service of proofing and trial order with small MOQ. Looking forward to cooperating with you.
3. Special Design of Motivational Sport Water Bottle
3.1 Motivational Water Bottle: This 32oz plastic water bottle features a time stamp and inspirational quotes on the surface. You will be prompted to stay hydrated and drink enough water throughout the day. Helps keep you healthy while drinking more fun.
3.2 Leakproof and Durable: Stainless steel bottle cap, leakproof thread and silicone liner design. You can safely carry this 32oz plastic water bottle in any bag without getting your belongings wet.
Motivational Sport Water Bottle With Screw Cap
Material: PETG
Capacity: 32 oz
Size: 7.5*7.5*28cm
Weight: 118 g
Color: Custom Color