Plastic cups have been underrated for their purpose. It is true because still, our society needs to start appreciating the existence of plastic cups more than before. Plastic cups greatly contribute to sustaining the environment and keeping it from the adverse impact of other forms of cups available. Due to this reason, people are still unaware of the benefits of plastic cups in daily usage.
Reuse or Dispose of Plastic Cups can do Both
Today, it is now more important than ever to devise ways for sustainability. There still a margin remains to reduce the negative impact of industries and technology on the environment. One contribution to the global sustainability movement is plastic cups. The best part about them is that they are reusable and disposable. Due to this reason, these prove to be a better alternative in this regard. Not only this, plastic cups are cost-efficient, easy to use, and are also adaptable for disposal and recycle. Therefore, such features of plastics make them crucial for their usage and lower the impact on the environment as well. These plastic cups are durable, which means it is easier to use them in the long run. Also, there is no need to spend extra to maintain them as simply using water is enough. We are going to take a look at the importance of plastic cups and see how we can leverage them in a better way to avail from them to sustain the environment on all counts. Let's get started!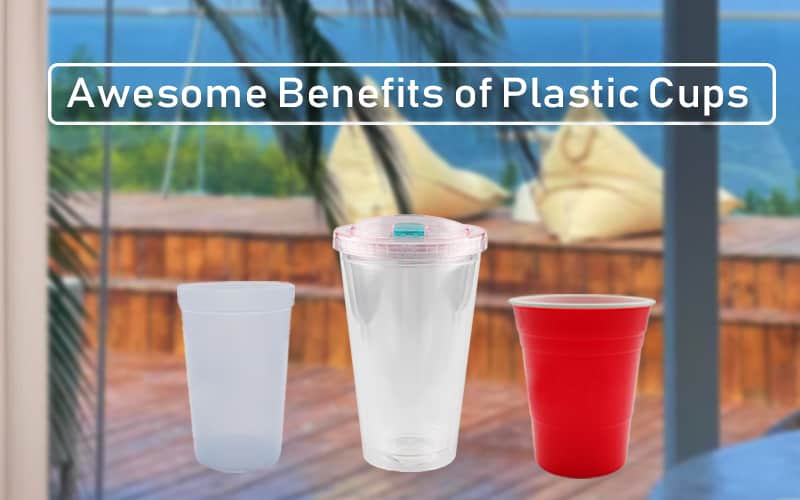 Plastic Cups are Perfect for Parties and Picnics
We all know that plastic cups come in handy when it comes to parties and picnics. It is because we can use them easily, plus these are ergonomic to hold as well. Even children can use plastic cups without any struggle. Also, if you are traveling a long distance when it comes to picnics, then carrying a bunch of plastic cups won't bother you at all. On the other hand, these are also easy to dispose of. Plus, we can bring used plastic cups into manufacturing something else as well. Therefore, as compared to other types of cups, plastic cups are much safer for the environment. Experts believe that relying on plastic cups in this regard proves to be efficient and highly environment-friendly at the same time. Now you know why introducing plastic cups in your house parties and picnics can prove to be an attractive and economical way of enjoying your favorite drinks. With no fear of spillage and breakage, you can focus on the quality time you are spending with your loved ones as well. 
Plastic Cups are Safe to Use
There is no doubt that when we use other types of cups for usage, there are chances of breakage and mishaps. For instance, ceramic cups can easily break if they fall on the ground, and due to this reason, these can cut the user's hands as well. At the same time, plastic cups are much safer to use as they don't break and injure the user. Problems with paper cups are extreme fluid absorption that makes them a cause of drink spillage. Due to this, in this comparison, plastic cups win because these never spill your drink at all. Also, plastic cups are safe because they don't cause any mishaps for the users, whether they are adults or children. For drinking purposes, plastic cups are also safe because there is no BPA in them as compared to other types available. So it means these don't contain any sort of toxins that can impact your health in a negative way. Also, on a commercial scale, these plastic cups undergo intense quality control methods to make them durable and safer for long-term usage.
Plastic Cups are Cost-Effective
The economic nature of plastic cups makes them a preferred choice for users. Commercially, producers don't have to go above and beyond to manufacture plastic cups. Recycling can also be the reason because it is much easier to recycle used plastic cups which becomes much more feasible for plastic cup providers as well. So after production, these plastic cups are also easier and more affordable to buy from the market. It means these are easily accessible and much affordable for everyone out there. Compared to ceramic cups and paper cups, these plastic cups prove to be highly affordable for users. Due to the economic nature of plastic cups, there are so many people who like to rely on these cups for everyday usage. They can easily dispose of them and buy them again when they are out of stock. Also, in case of emergencies, these plastic cups prove to be useful. Just rush to the store and grab your favorites without any hustle of finding them from shop to shop!
Plastic Cups are Customization Friendly
There is no doubt that plastic cups are more customizable because of polymers. Due to this reason, we see a wide range of plastic cups with different designs and shapes in the market. So that you can buy from them as per your liking. The range of customization in the case of ceramic and paper cups is limited. It is because of the materials used in their production. You might not find a customized ceramic cup easily or might have to pay for it extra from your pocket. But for the plastic cups, you don't have to do this. These are available in different shapes and designs. The designs look attractive, and plastic cups are readily available for different events and occasions. From house parties to picnics and weddings, plastic cups are versatile, and they prove to be an eco-friendly alternative to other types of cups available. 
Plastic Cups are the Efficient Cups
It is obvious that the remarkable features of plastic cups make them highly attractive as an eco-friendly reliance for daily use. From durability to toxin-free nature, these plastic cups can serve us way better than others. Due to this reason, there is a need to devise more ways to normalize the use of plastic cups and make people aware of using these for their healthy and economical nature. It will prevent people from undergoing major health concerns and will be beneficial in long-term usage at the same time because of its durability. These are highly efficient and save you from much trouble in the long run.
Hopefully, after having a look at the article, you will be able to rely more on plastic cups when you need them. Make sure to switch between different designs of plastic cups to make using them more fun!
Lightweight Portability:
The best part about plastic cups is that they are lightweight and highly portable. It means you can carry them for long distances and they also don't exhaust you for carrying due to their lightweight.
Durability Redefined:
As compared to ceramic and paper cups, plastic cups are more durable and don't easily break down at the same time. Plastic cups can easily serve you regardless of unfavorable environmental conditions at the same time.
Versatility in Design:
Plastic cups offer a higher degree of customization and design. It means for official and private meetings and parties; you will be able to find out tons of options in designs for plastic cups easily.
Efficiency in Manufacturing:
The production of plastic cups is a direct contribution to footprint reduction and sustaining the environment on the whole. Producers don't use harmful and hazardous materials for the manufacturing of plastic cups which is beneficial for the environment.
Hygiene and Safety:
Plastic cups offer more hygiene and safety in terms of easy maintenance and cleaning. These are always safe to use, and you can enjoy your favorite drink as well.
Perfect for Every Occasion:
Plastic cups are versatile, which means these go well with all types of events and functions regardless of the subject at all.
Innovative Features:
Modern plastic cups come with innovative features like spill resistance and temperature resistance, which are amazing and make them competent to meet future needs.
There is no doubt that plastic cups are our huge assets for the sustenance of the environment and for making our planet a better place to habitat. Plastic cups contribute to carbon footprint reduction and make the environment more hygienic for all living creatures. With their exceptional benefits, plastic cups are a great way to enjoy your life without damaging the surroundings at all. Therefore, authorities must come together to devise more ways to normalize the use of plastic cups among users so that they can indulge in their usage in a better way in the future.